Chair massage Miami, Ft Lauderdale & West Palm Beach! Our massage therapist professionally bring office, workplaces, corporate event hosting, corporate sponsoring, company spa parties, private parties, movie sets, concert backstage, stadium sport events, homes, hotels and small businesses elite chair massage services. Licensed chair massage therapy has become very popular for its portability and capacity to offer therapeutic massage from a single person to a large number of people in a short period of time. We specialize ourselves in these settings because we believe in providing the most excelling service that many corporations, small businesses, private parties and individual connoisseurs appreciate. We have come to understand chair massage is such a powerful hosting sales tool that many of our business and corporate members employ. In Home Clients utilize this very powerful method of relaxation and holistic healing when unable to lay upon a massage table due to injury, post surgery or medical condition, yet may still desire to receive all the benefits of a full body table massage from 30 – 45 minutes, In home clients may also receive at no extra charge. Disposable face cradle covers; Aloe instant hand sanitizer, Peppermint scented disinfectant wipes, Spa Music,  Small LCD clocks; fusion scented Candles. Corporate & Event Clients receive 10 – 15 minutes each remaining clothed, keeping turn-around times available to all and helping to create a comfortable environment. Our deluxe massage chairs allows clients to kneel and lean forward into a chest support pad and secured face cradle. Our therapist will then on focus on the muscles of the neck, scalp, arms, upper and lower back. We typically massage an average of 4-5 people per hour, per therapist and have a a minimum of four people are required for event services. If you have more than 15-20 individuals or a limited amount of time we can choose to reserve two or more on site chair massage specialists to work simultaneously at no extra charge event clients will receive disposable face cradle covers; aloe instant hand sanitizer, peppermint scented disinfectant wipes, small wastebaskets; small LCD clocks and a Small table for massage supplies. Sponsor may request that therapists wear different attire for specific corporate or or company events.
Contact Us Today To Schedule Your Next Chair Massage Event :  (888) 416 – 4183
Company Chair Massage, In Home Chair Massage, Events & Personal Spa Parties!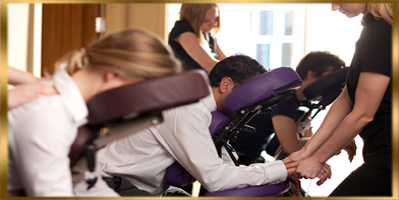 *Note: Eminence Massage also offers our optional holistic bamboo fusion chair massage a luxurious and versatile body treatment infusing the quintessential warming and manual skill of our bamboo sticks combine with hands on chair massage focusing on the muscles of the neck, scalp, arms, upper and lower back remaining clothed and relaxed in our soothing massage chairs. Offering free chair massage or bamboo fusion chair massage on-site at your convention booth, office, office party or any event raises your visibility and gives you a unique opportunity to talk to prospective clients that your competitors will not receive. Employers can have therapist arrive to there office or corporate event with class, convenience and supreme professionalism. If your an employer seeking to welcome massage to your office to relax and or invigorate your employees you have come to the right place. We are grateful to be your number one chair massage company and have personally pioneered our corporate office and chair massage to provide each employee a tentative and zestful massage. We are here to immensely cater to you in every way therapeutically and professionally inspired.
Rates For Event & Group Chair Massage
Rates For Personal & Medical Chair Massage
Services, Local Areas, Companies & Hotels We Travel To
Miami Massage Therapist
Chair Massage Therapist
Massage Therapist Miami
Mobile Massage
Seated Massage
Chair Massage In Miami
Chair Massage In Ft Lauderdale
Chair Massage In Palm Beach
Chair Massage In Las Olas
Chair Massage In Broward
Broward Chair Massage
Chair Massage Services
Chair Massage Services Miami
Office Massage Service
Massage For Employees Miami
Employee Massage Ft Lauderdale
Office Massage West Palm
Business Massage Events
Company Massage Events
Corporate Massage Events
Business Chair Massage
Event Chair Massage
Business Seated Massage
Miami Chair Massage Therapist
Ft Lauderdale Massage Therapist
Ft lauderdale Mobile Massage
Chair Massage Ft Lauderdale
Massage Therapist Ft Lauderdale
Business Massage Ft lauderdale
Company Massage Ft Lauderdale
Palm Beach Company Massage
Portable Massage Miami
West Palm Corporate Massage
Palm Beach Gardens Massage Therapist
West Palm Beach Massage Therapist
Mobile Massage Palm Beach
Home Depot
Winery Miami
A & L Construction
Coca Cola
Tire Kingdom
Ace Hardware
Groff Lawfirm
Steinburg Lawfirm
Gulfstream
Four Seasons Hotel
The Fountainebleau Hotel
Doubletree Grand Biscayne
The Betsy Hotel
The Bentley Beach Hotel
Floridian Hotel
New York Hotels
Las Vegas Hotels
Conrad Hotel
Viceroy Hotel
Harbor Beach Marriott Resort & Spa
Hampton Inn
The Epic Hotel
Eden Roc
Fisher Island
Flamingo South Beach
Washington DC Hotels
Hilton Bentley Hotel
Chair Massage at Home
Chair Massage At Hotel
Chair Massage at House
In Home Chair Massage
Massage Therapist At Office
Business Massage Therapist
Company Event Massage
Company Massage Therapist
Mobile Spa At Office
Office Spa Service
Office Event Spa
Spa at Office
Spa at Buiness
Spa at corporation
Spa at company
Company Spa
Company Spa Service
Facials At Office
Mani & Pedi At Office
Manicure at Office
Pedicure At Office
Spa Services At Office
Company Mobile Spa
Corporate Event Massage
Business Event Massage Therapist
Office Chair Massage
Office Event Massage
Office Massage Therapist
Event Massage Therapist
Mobile Office Massage
Mobile Therapy Service
Company Chair Massage
Company Office Massage
Seated Chair Massage
Seated Massage Service
Office Seated Massage
Business Seated Massage
Corporate Chair Massage
Corporate Seated Massages
Corporate Massage
Company massage
Mobile Chair Massage
Chair Massage Therapist
Chair Massage Therapy
Chair Massage Therapy Service
Hilton Hotel at Miami Airport
Hotel Victor
Hampton Inn & Suites
Hyatt Coral Gables
The Grand
Mobile Massage
Massage Therapist
Home Beach Massage
Pool Side Massage
Mobile Massage Therapy
Mobile Massage Therapist
33140
33414
33444
33407
33488
33431
33432
33433
33142
33139
33434
33004
33442
 33441
33325
 33334
33301
33330
33332
33315
33029
33027
33025
33026
33444
33065
33445
33486
33133
33101
33125
33127
33128
33129
33130
33131
33132
33136
33137
33139
33145
33487
33496
33128
33311
33313
33317
33322
33325
33388
33014
33016
33154
33129
33130
33131
33132
33136
33160
33480
33173
33301
33304
33180
33146
33145
33147
33150
33149
33154
33153
33156
33155
33158
33157
33160
33162
33161
33166
33165
33168
33167
34972
33170
33169
33173
31131
33172
33175
33174
33177
33176
33179
33178
33181
33180
33183
33182
33185
33184
33187
33186
33189
33188
33190
33194
33193
33196
33199
73078
33239
33301
33304
91214
33308
33309
33106
33311
33314
33313
33317
33319
33322
33324
33323
33326
33325
33330
32091
33334
70601
32141
33009
33010
33013
33012
33015
33014
85142
33016
33018
33020
33023
33025
33024
33027
33026
33029
33031
33030
33033
33032
33035
33034
33037
33039
33051
33055
33054
33056
33062
33064
33066
33065
33068
18447
33073
77840
33090
33092
33101
33948
33109
33112
33116
33114
33122
33126
33125
33128
33127
33130
33129
33132
33131
33134
33133
33136
33135
33138
33137
33140
33139
33142
33141
33144
33143
33410
33409
33412
33411
33414
33413
33415
33418
33417
33422
33157
33421
33425
33426
33428
33431
33430
33433
33624
33432
33435
33434
33009
33437
33436
33438
33441
33440
11427
33445
33444
33183
33446
33458
33025
33460
33462
33461
33029
33464
33463
33468
33467
33470
22430
33469
33474
33476
33478
33477
33898
33480
33483
33486
33484
33488
34653
33487
33060
33496
33493
33062
33498
33064
33063
33499
33066
33304
33065
33068
33305
33308
33473
33309
33449
33311
33472
33076
33313
33317
33321
33324
33334
34741
33957
33569
33583
33402
33401
33140
33404
33403
33406
33405
33408
33407
33145
33147
33150
33156
33155
33160
33166
33168
33167
77433
33169
33172
33175
33174
33179
33178
33180
33183
32407
33185
33184
33194
33196
32026
33302
33301
33304
33306
33305
33308
33310
33309
33312
33311
33314
33313
33316
33315
33318
33317
33319
33322
33321
33324
33323
33326
33325
33328
33327
33330
33329
33332
33331
33335
33334
33336
33338
33351
33394
33388
33411
33431
33432
33004
33435
33009
33437
33008
33010
33441
33442
33016
33444
33019
33446
33021
33020
33023
33022
33025
33024
33027
33462
33026
33461
33029
33028
10003
33035
34653
33054
33060
33056
33062
33064
33063
33066
33065
33068
33067
33069
33071
33073
33076
33082
33097
33126
33127
33130
33129
33131
33134
33133
33135
33137
33140
33139
33142
33141
33144
In House Massage
At House Massage
In Home Massage
At Home Massage
Home Massage Therapist
House Massage Therapist
Mobile Massage Therapist
Massage Therapist At Hotel
Massage Therapist At House
Epic
Marriott
JW Marriott
Hyatt Regency Brickell
In House Massage
The Intercontinental
The Loews Hotel
The Mandarin Oriental Brickell Key
Miami Beach Marina
The Mondrian Condominium
The National Hotel
Conrad Miami Hotel
The Clevelander
The Riviera
Embassy Suites
Red Rood
Sheridan
Best Western
La Quinta
Hampton Inn
One Bal Harbour Resort and Spa
The Palms Hotel
Portofino Tower
Turnberry Isles Resort
Jade ocean
Trump International Beach Resort
Newport Beachside Resort
Ocean one
Ocean two
Ocean three
Residence Inn Miami Aventura
Ritz Carlton Key Biscayne
Ritz Carlton South Beach
Royal Palms Hotel
The Riviera Hotel South Beach
The Shelbourne Hotel
Sofitel Miami
Courtyard Marriott
Days Inn
In Home Massage
Trump International Beach Resort
 Viceroy Miami Hotel Resort
The W Hotel
Massage Miami
Massage Ives Dairy
Great Massage
Massage Adventura
Massage Sunnyisles
Massage Bel Harbor
Massage Hollywood Beach
License Massage
Massage Beach
Outcall Therapy
In Home Massage
Massage Palm Beach
Massage Pembroke Pines
Massage St Petersberg
Massage  Sarasota
Massage Condo
Best Massage
Massage Windermere
Massage Outcall
Outcall Massage Miami
Outcall Massage Miami Florida
In Home Massage Kendall
Resort Massage
Romantic Couples Massage
Tourist Massage
In Home Massage South Beach
Mobile massage west palm
Out call massage florida
Florida Spa Massage
Massage West Palm Beach
Palm Beach Gardens
Spa Finder In home massage
In Home Spa
In Home spa resource
Massage Resource
Best Massage Therapist
Mobile Spa Services
Massage Miami Beach
Massage South Beach
South Miami
Homestead
In Home Facial
Massage Service
House Outcall
Mobile Massage Therapist
At my house massage
Massage Services
Massage Doral
Massage Pinecrest
Massage Homestead
Massage Las Olas
Massage Kendall
Massage Downtown
Massage Lake Worth
Mobile South beach Massage
Mobile Miami Beach Massage
My massage
Great in Home Massage
Massage Ft Lauderdale
Best In Home Massage
Massage Miramar
Massage Deerfield
Massage Boca
Get massage
Massage Clermont
Massage Delray
Massage Broward
Massage Wellington
FL Massage
Massage Kissimmee
Massage Palm Beach Gardens
Miami
Ft Lauderdale
West Palm Beach
Massage Pinecrest
Massage Coconut Grove
Hotel Massage
Office Massage
Local mobile Massage
Alachua
Altamonte Springs
Anna Maria
Apalachicola
Apopka
Atlantic Beach
Auburndale
Avon Park
Bal Harbour
Bartow
Bay Harbor Islands
Boca Raton
Bonita Springs
Boynton Beach
Bradenton
Brooksville
Cape Canaveral
Cape Coral
Casselberry
Celebration
Chipley
Cinco Bayou
Clearwater
Clewiston
Cocoa
Cocoa Beach
Coconut Creek
Coral Gables
Coral Springs
Crystal River
Dania Beach
Davie
Daytona Beach
Deerfield Beach
DeFuniak Springs
DeLand
Delray Beach
Deltona
Destin
Dunedin
Eagle Lake
Edgewater
Edgewood
Eustis
Fort Lauderdale
Fort Meade
Fort Myers
Fort Myers Beach
Fort Pierce
Fort Walton Beach
Fruitland Park
Gainesville
Greenacres
Green Cove Springs
Gulf Breeze
Gulfport
Haines City
Hallandale Beach
Hawthorne
Hialeah
Hialeah Gardens
Highland Beach
Hollywood
Holly Hill
Holmes Beach
Homestead
Hypoluxo
Indialantic
Jacksonville
Juno Beach
Jupiter
Key Biscayne
Key West
Kissimmee
LaBelle
Lady Lake
Lake Alfred
Lakeland
Lake Mary
Lake Park
Lake Wales
Lake Worth
Lantana
Largo
Lauderdale By The Sea
Lauderhill
Leesburg
Lighthouse Point
Longboat Key
Longwood
Maitland
Marco Island
Margate
Melbourne
Melbourne Beach
Miami
Miami Beach
Milton
Minneola
Miramar
Mount Dora
Naples
Neptune Beach
New Port Richey
New Smyrna Beach
Niceville
North Miami
North Miami Beach
North Port
Oakland Park
Ocala
Ocean Ridge
Ocoee
Okeechobee
Oldsmar
Orange Park
Orlando
Ormond Beach
Oviedo
Palatka
Palm Bay
Palm Beach
Palm Beach Gardens
Palm Coast
Palmetto
Panama City
Panama City Beach
Pembroke Pines
Pensacola
Pinecrest
Pinellas Park
Plant City
Plantation
Pompano Beach
Ponce Inlet
Port Orange
Port St. Lucie
Punta Gorda
Rockledge
Royal Palm Beach
St. Augustine
St. Augustine Beach
St. Cloud
St. Pete Beach
St. Petersburg
Safety Harbor
Sanford
Sanibel
Sarasota
Satellite Beach
Seaside
Sebastian
Sewall's Point
Shalimar
Stuart
Surfside
Tallahassee
Tamarac
Tampa
Tarpon Springs
Tavares
Temple Terrace
Titusville
Treasure Island
Valparaiso
Venice
Vero Beach
Wellington
West Melbourne
West Palm Beach
Weston
Wilton Manors
Winter Garden
Winter Haven
Winter Park
Winter Springs
Lee
Baker
Leon
Bay
Levy
Bradford
Liberty
Brevard
Madison
Broward
Manatee
Calhoun
Marion
Charlotte
Martin
Citrus
Miami-Dade
Clay
Monroe
Collier
Nassau
Columbia
Okaloosa
Desoto
Okeechobee
Dixie
Orange
Duval
Osceola
Escambia
Palm Beach
Flagler
Pasco
Franklin
Pinellas
Gadsden
Polk
Gilchrist
Putnam
Glades
Santa Rosa
Gulf
Sarasota
Hamilton
Seminole
Hardee
St. Johns
Hendry
St. Lucie
Hernando
Sumter
Highlands
Suwannee
Hillsborough
Taylor
Holmes
Union
Indian River
Volusia
Jackson
Wakulla
Jefferson
Walton
Lafayette
Washington
Lake
Alabama
Alaska
Arizona
Arkansas
California
Colorado
Connecticut
Delaware
Florida
Georgia
Hawaii
Idaho
Illinois
Indiana
Iowa
Kansas
Kentucky
Louisiana
Maine
Maryland
Massachusetts
Michigan
Minnesota
Mississippi
Missouri
Montana
Nebraska
Nevada
New Hampshire
New Jersey
New Mexico
New York
North Carolina
North Dakota
Ohio
Oklahoma
Oregon
Pennsylvania
Rhode Island
South Carolina
South Dakota
Tennessee
Texas
Utah
Vermont
Virginia
Washington
West Virginia
Wisconsin
Wyoming