Children's Spa Party Services | Eminence Mobile Spa Parties
 Eminence mobile massage and spa now offers glamorous spa party services for little girls. Our children's events will bring fun, excitement and decadent spa treatments to each princess. We promise services that will pamper your little angels or teens with a wonderful and fabulous spa experience, accommodatimg any theme or idea desired while happily traveling to your location to host on site treatments.
You can now begin organizing an event that will give your little princess a most wonderful gift she will never forget. Our mobile spa offers an array of services from mani and pedi's, chocolate bella facials, pretty me make up, glam games and mini back massage.
Impress and popularize your next daughters celebration or birthday by creating an event of a lifetime everyone can enjoy. Our attentive and friendly staff are here to pamper everyone with as one of a kind experience. Contact us today to customize a package that suits your groups total if one is not present below. We cater events from 9AM – 9PM , 7 days a week, 365 days a year!
We proudly serve the Florida areas of  North & South Miami Dade, Broward, Ft Lauderdale, West Palm Beach and Palm Beach Gardens.
 Full Package $675
Full Pretty Me Facial & Mini Facial Massage Station
Nail Station for Mini Mani's and Pedi's
Children Shoulder and Back Massage Station w/portable Dividers
Cutie Me, Full Glamour Makeup Station (Age Appropriate Make up)
Complete Spa Attire Provided: Includes Robes, Slippers and Eminence Children Spa Headbands
Light Hair Styling, Feather Extensions, Beads and Ribbons for Hair
Full Activity Spa Station & Entertainment Station(strawberry lemon or peach hand scrubs, fashion photo shoot with developed photos, moving marbles, Teepee me, musical nail polish, forever friendship bracelets, spirit finger raffle with prizes)
Champagne Toast for the Guest of Honor (Pink lemonade)
Welcoming Spa Party Necklace Beads for Parents and Children
Your Choice Party theme
Customized Tranquil Spa Music or your choice party music for Setting
Luminescent Spa Ambiance Pink Strawberry & Cherry Fusion Scented Candles, Children's Aromatherapy Diffuser
Spa Ambiance Set Up, Spa Station Decor, Spa Music, Silk Pinky Rose Petals, Portable Dividers, Deluxe Hot Towel Warmer, Table Spa Lamps, Deluxe Facial Steamer, 2 Tier Garment Robe Rack, Chairs w/Bows, Tables(needed for occasion), Table beads or mini crystal decor
Special Gift Bag for the Guest of Honor
Girly Arm/ Hand/ Glitter Stickers
Complimentary Party Favors For All Girls Attending
Spa Party Games, Raffle Ticket & Prizes
Royal Coronation with Ceremony and Tiara (If princess theme)
Happiness and fun for all!
Spa Party Information

$675 up to 10 Girls,  $55 Per Additional Girl
Includes 3 hostess, Additional host $150
Ages 3-12
Duration up to 2  1/2  Hours
Set Up and Clean Up In Homes
$50 Deposit will secure your Party Date, Time & Reserve Equipment, non refundable
We accept : PayPal, Cash, Check, Credit Cards for Party Deposits
Spa Party Add On's

Custom Invitation & Thank You Cards… $35
Karaoke Station for Gaming, Singing, Music and Dancing… $75
Upgrade to Chocolate Bella Facials… $55
Plush Pillow Decor… $25
Paraffin & Strawberry Champagne Sugar Scrub Station for Attending Adults… $95
Keep Complimentary Robes, Slippers & Spa Head Bands.. $35 Per Guest
Personal Event Planner To Assist In Customizing & Organizing Location Setting… $99
All Machines can accommodate both in or out door settings (Various sizes)
Edible Spa Party Add On's – Eminence Mobile Spa Parties
Flowing Pink Lemonade or Punch Party Fountain… $35
Flowing Chocolate Fountain w/chocolate, Marshmallows & Strawberry Fruit Platter… $99
Dozen Pink Gourmet Cupcakes… $35
Spa Party Snow Cone Machine… $55
Magical Cotton Candy Machine…. $55
Spa Party Popcorn Machine… $55
Paraffin & Strawberry Champagne Sugar Scrub Station for Moms… $95
The Sweet Spot Candy Station (view sample below)… $199
Sparkling Apple Cider… $25 Per Bottle
50 Piece Variety-Assorted Chocolate Candy In Clear Gift Wrap w/Banquet Bow… $119
Chocolate Covered Strawberries… Dozen $35, 2 Dozen $60
All Machines can accommodate both in or out door settings (Various sizes)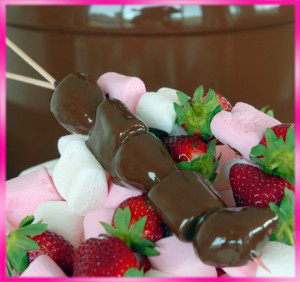 Themes We Help Accommodate
My Princess Party
My Spa Party
Tea Party
Star Light Star Night Pajama Jam
My Stuff Animal Party
Girl Scout Troops
Mommy & Me Spa Party
Glam Spa Parties
Little Diva Party
Chocolate Birthday Party
Tiara Spa Party
Fairy Pixie Party
Sparkling Glitz and Glamour Party
*Note

We accommodate mobile spa services, the theme set up is provided by parent/host of party. We will try our best to color coordinate our stations, and all mobile spa equipment with your party
Mani & Pedi Massage and Facial Station requires an 5 by 6 feet spacing, table massage 9 x 10 feet, inclu
des linens, creams, music, scented safety candles, aromatherapy diffuser, portable dividers
Yes we can accommodate both in door and out door settings
For your convenience a minimum gratuity of 10% or $20 tip per professional (which ever is greater) will be added to your service, You are welcome to offer an additional amount as you see fit.
Group Spa and activity entertainment stations are to accommodate children who are not at that moment receiving a specific spa treatment
Moms Paraffin Station & Strawberry Champagne Sugar Scrub Station is specifically to provide activities for mothers attending event
Each station will be provided its own portable divider coverings for mobile parties to enhance spa ambiance, you can have the option to remove dividers
Clothing will remain on for children chair massage and table massage services, Undergarments and swimsuits may be worn if preferred. We encourage you to communicate any level of discomfort to your therapist.
All machines can accommodate in or out door settings (Please inquire about our various sizes)
Parents may participate in most games, spa services are to fully accommodate all children attending event
You can book a Spa Party by e-mailing or calling us to reserve your party date. Reservations need to be made at least 1 week in advance for reserving spa parties. Changes to any packages must also be made 1 week prior.
Robes, slippers and spa headbands are provided for the duration of the event, if you desire children keep the robes, slippers and spa headbands they are $35 each which must be discussed with host while arranging services
Spa technicians parking fee's for hotel's & resorts will be covered by host/sponsor of even
Credit card, Check and Cash transactions may be accessed sales taxes
Spa technicians will arrive one through 1 – 2 hours early prior to event to set up stations, spa equipment and prepare your decadent spa party layout
Optional event planner must be booked one week prior to event date. Planner will advise event host/guardian on spa stations and locations they are best to be placed- fountains and food locations if applicable. Depending upon event, photo shoot areas, storage area to be used, advice on entertainment, party games, furniture best to be removed-placed in home. Upon sign consent planner will also take pictures of on site location to provide the best advice for all stations and equipment. Host may be called upon directly by client if they desire to make changes to event. Event prices and payment are not provided by event planner.
We will make your little girl feel like she is spending the day at the spa, allow us to pamper her and her friends with our signature elite spa services.