Eminence Massage will forever utilize the most latest and popular skincare collections so you can continue having magnificent results from the comfort and convenience of prominent regimes in your home. Eminence Massage estheticians are always provided with the highest quality and most prestigious skin care products to treat and define your skin, we are forever given the most excellent and superb recommendations, our divinely luxurious supplements integrate enzymes and antioxidants are infuse naturally into the skin with tantalizing skincare creams. Eminence estheticians are well advanced and trained in administering facials, advising customers on achieving results of the most advanced and successful skin. Each treatment is design essentially in detail to enrich, individualize and defy you. We believe you are unique, there for our first aspirations are to define the essence of your beauty and express the individual in you.
Mobile Spa Party Facial Services
The Cure
Take your facial to the next level. This facial includes advanced  deep cleansing, a specialized and revitalizing treatment mask along with an indulgent milk and honey treatment that includes extended facial massage and a soothing essential creams which target your individual needs. Included with a relaxing deep tissue massage of the face and scalp for a soothing and mineralizing experience
Eternal Youth
Rejuvenate the skin and the heart with this facial as we began with a Lymphodrain massage of the face and neck just under the skins surface. Using soothing ingredients such as Green papaya, pineapple and honey dip. We Improving clarity, relieve fine lines, and rebalance the skin into a more refine texture. A hydrating antioxidant mask with antimicrobial effects nourishes you into health and revitalization followed by a Swedish facial massage to sooth you into bliss. Protects against environmental damage and combats aging, revealing firm & vibrant skin.We offer this facial as our best in wellness, skin care, relaxation and stress reduction. Guaranteeing a craft that will leave you feeling young, firm, healthy and revitalized. 
*A favorite for loved ones or birth day bliss.
Glow
Lighten brighten and radiate me, this milk spa, gold/diamond facial also includes a lightening treatments that gently blends and a cures. Utilizing brightening agents to reduce sun spots, brown spots and the redness, with cleansing treatment. Glow into a lighter brighter and healthier you.
Enrich, Rebalance and Radiate Teen
Using this tea tree and lemon essential treatment helps to heal blemishes, reduce breakouts, control oil production, provide a smoother clearer skin tone, helps in repairing pigmentation problems, inhibiting active acne and correcting acne marks. Massage to help add muscle relaxation and organic creams to glow to brighten dull skin. Our estheticians will gently educate your teen on good  skin care habits, skin cleaning tips, and techniques to continue healthy and youthful-looking throughout life.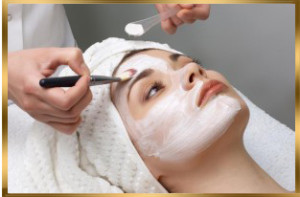 Exotic Back Facial
Getting pampered into heaven is a pleasure you deserve. A back facial is a skin treatment which is formulated specifically for your back, it refines re-energizes and rebalances your body. It utilizes a technique which will clarify, soften and rejuvenate the skin while providing a deep berry moisturizing treatment which will leave the client with a healthy, glowing appeal. Back facials for both men and women are available, in a wide range of formulations which target specific skin types or issues such as clogged pores and acne on the back. We begin with a deep cleansing of the back to remove excess oils and impurities, followed by a coffee bean exfoliation to remove dead skin cells and brighten the skin tone. A stress-relieving treatment followed by a masque, moisturizer and Lomi Lomi massage will leave you relaxed and your skin radiant with optimal and decadent results.
Gentlemen's  Elite Facial
Gentlemen's Elite Facial uses a custom-blended masque and an application of a protective emollients to smooth the skin surface and encourage cell renewal. This rejuvenating facial increases cell turnover,  promotes skin healing, sun damage, minimizes the effects of razor irritation and sports-related activities, promotes skin healing, and reduces visible facial lines, leaving the skin soothed and radiant and vital, during your treatment, your hands , neck and scalp are massage.
Warming Glacial Facial
These warming soothing stones and lava shell peeples melt into your skin and assend you into heaven. Combing natural green tea creams and a detoifying blend of botanical extract creams which purify your skin and open your senses. With Swedish techniques, we create an unforgettable, thoroughly relaxing and enticing experience. Massaging away headaches, migraines, and open the revive the sinuses through our lava shell peebles and herbal remedies.
*Great for those whom detoxify and practice cleansing the body with green tea treatments, Take herbal tea baths (made from a mix of green and red rooibos tea leaves, linden, dried rose petals and orange bits). Or enjoy mineral salt detoxification baths.
Papaya Lush Facial
This papaya lush treatment specializes in promoting the skins natural health and suppleness. We begin with a combining skin analysis, deep cleaning and pore vitalization. Our enticing duo enzymatic pineapple and kiwi regimen products treat rosacea, nutrient replenishment, eczema, psoriasis, severely dry over sensitive skin and improvement of the skin's natural immune response to clear free radical damage. A single treatment will produce visible results and is an excellent introduction to spa care.
VIP Facial
This dynamic facial  contains a synergistic blend of powerful fruit and calming ingredients suitable for all skin types. For astounding results with no pain, our estheticians  use cranberry and chamomile tea is infused with light  Salicylic acid. Improve the texture and firmness of skin by removing layers of dead cells to encourage cell regeneration, improve hyper-pigmentation,  line reduction, eliminate blackheads, superficial age spots and acne prevention. Delight in the pleasures of a vitalizing treatment that will provide nourishment, softness with a milk and honey finish to replenish moisturizing your skin.
Deep Sea Mud Masque
Your skin is like your personality…individual. Treat yourself to the purest, biodynamic mud masque on earth, featuring the toning and hydrating effects using raspberry, hibiscus and melon. Powerful exfoliators derived from primrose and seaweed brisk that open pathways which deliver vitamins and antioxidants so  active cell production within the epidermis takes place. Our mud mask contains Argan Oil and bentonite clay for smooth radiant, and silky results, lay back, relax, and enjoy this spa bliss. We promise results that will leave you  revitalized and healthy.
Perfect for those who plan to attend any special event
Exotic Aloe & Passion Fruit Mask
The ideal mask for an environment with sinful conditions, this mask alone contains queous extracts of aloe vera (aloe barbadensis, and passionflower (passion florria incarnata) fruit which helps to repair and prevent congested blemished skin, maximize hydration and enhance the nourishing, soothing and calming and healing minerals your skin produces. A single treatment will produce visible results and is an excellent introduction to in home mobile spa care, its time to show your face the love and pampering it deserves and we are here to enhance your beauty into the health and elegance it deserves.
French Wine Exotic Facial
The recent addition of the "Our french exotic wine  Facial" has got our clients lined up for a second treatment, combining the regulating action to reduce collagen fibers your complexion will hold a clearer appearance as well as being the most very effective treatment in counteracting skin conditions such as mild to severe sun-damage, discoloration and hyper-pigmentation, razor- bumps relieving excessive dryness, improving dull, removing uneven skin tones. With pure grape tannins and organic moisturizers we have signature a treatment that will leave you, your skin luxuriously immersing in a taste of class. Lay back and have a sip of the finer ventures in life.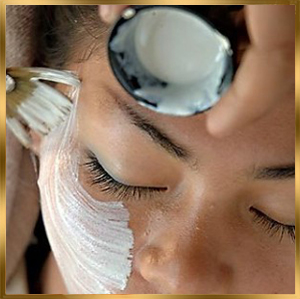 Chocolate Bella Facial & Mask
Created with sumptuous, delectable ingredients from the Cacao Tree Seed. Experience powerful skin rejuvenators brushed over your skin. The aromatherapy is like none you've ever imagined. As the pure liquid of cocoa beans makes skin contact, you can't help yourself from a deep sigh as your skin is escaping into a lavish yet deliciously rich chocolate mask. It will work to cleanse, deeply nourish and purify skin. Chocolate, the potion of Gods and Goddesses, Rich in antioxidants that naturally clear and smooth skin, turning dehydrated skin into your sweetest skin yet while reducing the release of free radicals and delays the ageing process. A great influence on the dermis. This facial experience contains active ingredients carefully selected from natural resources to maintain beneficial properties of the cacao fruit, proven as an anti-oxidant,. In addition, it improves the mood, releases endorphins, and enters into a state of excitation light. With our mobile spa services we take advantage of the wonderful properties of chocolate in cosmetics. Thanks to which you can now spoil in without the fear of excessive calories. All you need is love or more chocolate.
Chocolate has never been so good for you, indulge yourself….. and experience no guilt over this chocolate fix.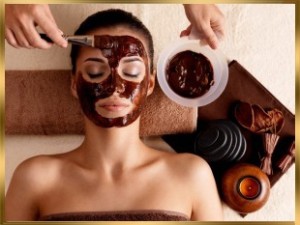 French Bamboo Facial 
Allow yourself to be carried away into an exotic and unique, experience. This facial includes a bamboo facial massage popularly known as the Bamboo-Visage which increases the flow of oxygen, blood, and nutrients to the facial area, leaving the client's skin soft and supple. A French facial technique utilizing a delicate bamboo set created for their function, control and smooth gliding strokes on the face. This treatment combines the use of a beautifying natural  therapy cream which combines strengthening pure organic bamboo extract and shine-amplifying organic Indian gooseberry in a paraben- and sodium-chloride-free formula that infuses every strand with nourishing moisture and shine-enhancing vital nutrients. Leaving clients skin soft and supple with an amazing sensation of relaxation.  Eminence Massage is forever committed to providing the absolute highest level of personal care to each individual.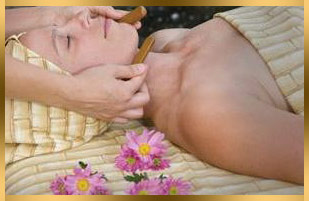 The right type of facial with right procedure has long time good effect on the face. Once in a while it is most certainly worthy to take time out for this defying process.
Click Below to View