Girls spa parties Delray Beach, Ft lauderdale and West Palm Beach. Our Lil Princess and children mobile Spa Party event service provides one-of-a-kind luxurious party planning for girls. Whether Kendall, Boynton, or Delray we are Florida's most glamorous in home spa party company. Hosting fun, excitement and decadent spa treatments to each little princess. We promise to pamper your little angels or teens with a wonderful and blissful full mobile spa experience. We can accommodate any theme or idea that you desire while happily traveling to any location to host on-location spa parties for any size group of girls. Contact us today to begin organizing an event that will give your little princess or teen the most wonderful gift she has ever had and will never forget.
Contact us today at  **(888) 416- 4183**
*Eminence Spa Parties*
Mini Princess Facials and Shoulder massages
Spa Attire Provided, including Robes, Slippers, and Headbands
Girly Tattoos and Hand Made Princess Craft Games
Nail Station for light Mani and Pedi
Princess Me Pretty Age Appropriate Make up
Beads, Feather Extensions, Ribbons for Hair
Kids Customized Hands and Feet Sugar Scrub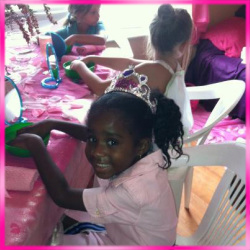 Princess Pillow Decor
Wii Station* Karaoke Station and Many More Children's Games
Complimentary Enjoyments Which Can Be Added Are….
Pink Cupcakes
Pop Corn
Yummy Snow Cones
Mini Fondue Machine w/Strawberries & Marshmallows
Cotton Candy
Flowing Princess Drinking Fountain
Happiness and Fun For all!
*Princess Themes & Ideas We Help Accomodate*
My Princess Spa Party
Spa Tea Party
Star Light Star Night Pajama Jam
My Stuff Animal Party
Girl Scout Troops
Glam Spa Parties
Little Diva Party
Chocolate Birthday Party
Tiara Spa Party
Fairy Pixie Party
Sparkling Glitz and Glamour Party
---
 Children/Girls Spa Party
$625 up to 10 girls,  $30 per additional girl.
Includes 3 hostess, Additional host $75
Ages 3-12
Duration up to 2  1/2  hours
Set Up and Clean Up In Homes
$50 Deposit will secure your Party Date & Time
We accept : Pay pal, Cash, Check, Visa and MasterCard  for Party Deposits

***Popular Girls/Children's Spa Party Add Ons Include****

Custom Invitation and Thank You Cards (Add On $30)
Princess Plushful Pillow Decor (Add On $20)
Flowing Chocolate Fountain w/Marshmallows & Strawberry Fruit Platter(Add On 75)
Flowing Pink Lemonade or Punch Party Fountain (Add On $55)
Pink Cupcakes (Add On $35)
Princess Snow Cone Machine (Add On 55)
Magic Cotton Candy Machine (Add One $55)
Hello Kitty Popcorn Machine (Add On $55)
 (Girls & Children) Spa Party Services Will Include…
Nail Station for light Mani and Pedi
Princess Me Pretty Age Appropriate Make up
Light Hair Styling, Beads, Feather Extensions, Ribbons for Hair
Eminence Mini Shoulder and Back Massage Station
Kids Customized Hands and Feet Sugar Scrub
Princess Plushful Pillow Decor
Royal Coronation with Ceremony and Tiara
Pink Lemonade and Toast For the Guest of Honor
Special gift bag for the "Princess of Honor"
Spa Attire Provided, including Robes, Slippers, and Headbands
Girly Tattoos and Hand Made Princess Craft Games
Music * Wii Station* Karaoke Station and Many More Children's Games
---
---