Eminence Massage is Florida's leading event chair massage service. Our massage therapist professionally bring office, workplaces, corporate event hosting, corporate sponsoring, company spa parties, private parties, movie sets, concert backstage, stadium sport events and small businesses elite chair massage services. License chair massage therapy has become very popular for its portability and capacity to offer therapeutic massage to a large number of people in a short period of time. We specialize ourselves in these settings because we believe in providing the most excelling service that many corporations, small businesses and private parties appreciate. We have come to understand chair massage is such a powerful hosting sales tool that many of our clients and corporate members employ. Clients remain clothed keeping turn-around times available to all and helping to create a comfortable environment. Receiving ten or fifteen minutes of restorative deep tissue chair massage  has been found to be effective for the relief of stiffness, aches, muscle pains and reduction of stress.
Eminence Massage also offers our optional holistic bamboo fusion chair massage is also a luxurious and versatile body treatment infusing the quintessential warming and manual skill of our bamboo sticks combine with hands on chair massage focusing on the muscles of the neck, scalp, arms, upper and lower back remaining clothed and relaxed in our soothing massage chairs. Offering free chair massage or bamboo fusion chair massage on-site at your convention booth, office, office party or any event raises your visibility and gives you a unique opportunity to talk to prospective clients that your competitors will not receive. Employers can have therapist arrive to there office or corporate event with class, convenience and supreme professionalism. If your an employer seeking to welcome massage to your office to relax and or invigorate your employees you have come to the right place. We are grateful to be your number one chair massage company and have personally pioneered our corporate office and chair massage to provide each employee a tentative and zestful massage. We are here to immensely cater to you in every way therapeutically and professionally inspired.
Contact Us Today To Schedule Your Next Chair Massage Event :  (888) 416 – 4183
Company Chair Massage Services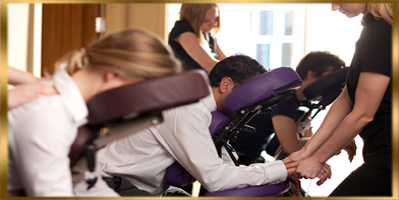 Chair Massage Events & Parties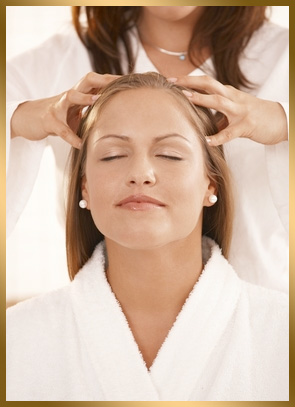 *Portable massage chairs; Bamboo Fusion equipment: Disposable face cradle covers; Aloe instant hand sanitizer; Peppermint scented disinfectant wipes, Small wastebaskets; Small LCD clocks; Small table for massage supplies. Sponsor may request that therapists wear different attire for specific corporate or or company events.
(Recliner Lounge chairs for foot massages and Sports Massage tables are available
when client has enough space available. Approx. Size 72"x 33" Ea.)
At  No Additional Cost When Requested/Available.
CD Players, Soothing/Relaxing CDs, 22″ X 28″ Sign Holders, Easels, Silks Plants and Flowers